UCR CENTER FOR NANOSCALE SCIENCE AND ENGINEERING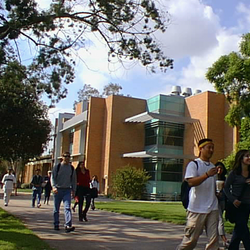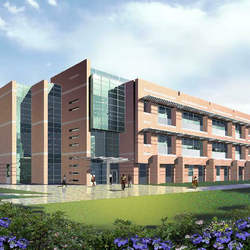 The Center for Nanoscale Science and Engineering (CNSE) was established to capitalize on the advances of nanotechnology, an area recognized as a very promising research endeavor that could span a large fraction of the University activities in science, engineering and medicine. The Center was founded in 2000 with the appointment of Robert C. Haddon as Director with the position of Distinguished Professor in the College of Natural and Agricultural Sciences and the Bourns College of Engineering.  The Founding Director built a pre-eminent program in the highly promising area of nanotechnology through the unification of existing research programs that benefit from an emphasis on nanoscale phenomena, together with selective hiring in areas of opportunity. Through the years the Center funded more than 20 faculty members in both BCOE and CNAS and supported research related to spintronics, 3D electronics, nano-photonics, memory storage, molecular devices, sensors and nanobiotechnology.
As a first step to establishing world class nanotechnology research, CNSE identified the following milestones:
The development of collaborative research thrusts.
A national presence in nanotechnology as signified by Center funding for a specific initiative involving a significant number of faculty.
The presence of a semiconductor processing and nanofabrication facility.
The presence of a full range of core nanotechnology competencies on campus.
The presence of a medical school on campus.
Initially CNSE has focused on carbon, silicon and biology because these three areas make compelling arguments for the power of the nanoscale world and because these areas fall within the Center's existing expertise. Today the Center has internationally recognized programs in nanomaterials and a strong effort in nanoelectronics, single electron devices, circuits based on nanodevices and new approaches to information processing involving quantum computing and spin electronics.  
A major undertaking of the  Center was the construction of a Nanofabrication Facility (NF) and cleanroom,  now known as CNSE NF. The state-of-the-art equipped nanofabrication center with clean room and semiconductor processing facilities was designed to serve as a point of unification for the research efforts in nanotechnology around the campus.  The Center has funded the design, construction and major equipment for the Nanofabrication Facility. The construction of the facility was completed in 2005 and opened for general use as a fully equipped recharge facility in 2007.   
In 2002, the Center for Nanoscience Innovation for Defense (CNID) was started as a strategic alliance coupling the strengths of an integrated and comprehensive University based research program with the commercial and national defense industries.  The CNID program began with the purpose of creating local knowledge based jobs in the four technology areas of Nanoelectronics, Nanophotonics, Nanobio and Spintronics.  The program was carried out at the California Universities at Riverside (UCR), Santa Barbara (UCSB) and Los Angeles (UCLA). CNID has funded approximately 20 Spintronics projects, 40 Nanoelectronics projects, 15 Nanophotonic projects and 15 NanoBio projects.  
CNID has made exciting progress in carbon nanotubes devices such as chemical and bio sensors, potential future logic, memory and quantum computing chips using electron spin, sensitive analysis of biological cells and molecules for personalized medicine, high density molecular memory, semiconductor materials for energy efficient high power transistors, plasmonic lens for ultra-high density magnetic recording as well as in such fundamental areas as the electrical and spintronics properties of graphene, carbon nanotubes and more.  
In 2004 the Center for Nanomaterials and Nanodevices (CNN) came into being as a result of the world class research and development program in nanoscale science and engineering developed at CNSE, and the commitment of UCR to the development of nanotechnology by instituting aggressive hiring, infrastructure, and construction initiatives to build strength in this area. CNN was designed to bring together a subset of the leading United States electronics and memory storage industries within the framework of a University Center, in order to foster scientific and technological collaboration.
Further, the Center has efforts directed towards the application of nanoscale science and engineering to biology with the goal of producing medically useful knowledge of nanoscopic biological processes and their detection, and nanometer-sized prosthesetic procedures. Ultimately, progress in this field will lead to the understanding, control and enhancement of the nanobiomedical technology of nature and it will be desirable to incorporate this technology into practice within a UCR NanoMedical School.  
Professor Robert Haddon served as Director of CNSE until 2016. Since 2016 the Center is under the leadership of Distinguished Professor Alexander Balandin. CNSE builds on a long history of excellence in material science, nanoelectronics, spintronics, optoelectronics and nanobiology.